Today's Practice
live data art / screensaver
2020
One's practice of birth and death repeats every day, with the rising and falling sun and the waxing and waning moon. She starts the day with a child pose before Seoul's dawn, which leads to a lotus posture, and from dawn to dusk she practices each pose of the Sun salutation. After dusk in Seoul, she practices a posture that responds to the current moon status from the moon salutation, which is followed by a lotus posture and a corpse pose. I wish to remind myself and all of us to live in sync with the rhythm of nature, which is often forgotten when surrounded by digital displays and artificial light.

exhibited at Plug In City 2020 (plugincity.org), produced by Red Onion / sponsored by Ministry of Culture, Sports and Tourism, Arts Council Korea, Seoul Foundation of Arts and Culture

Dawn Here Dusk There/

Solar Time

video installation
2019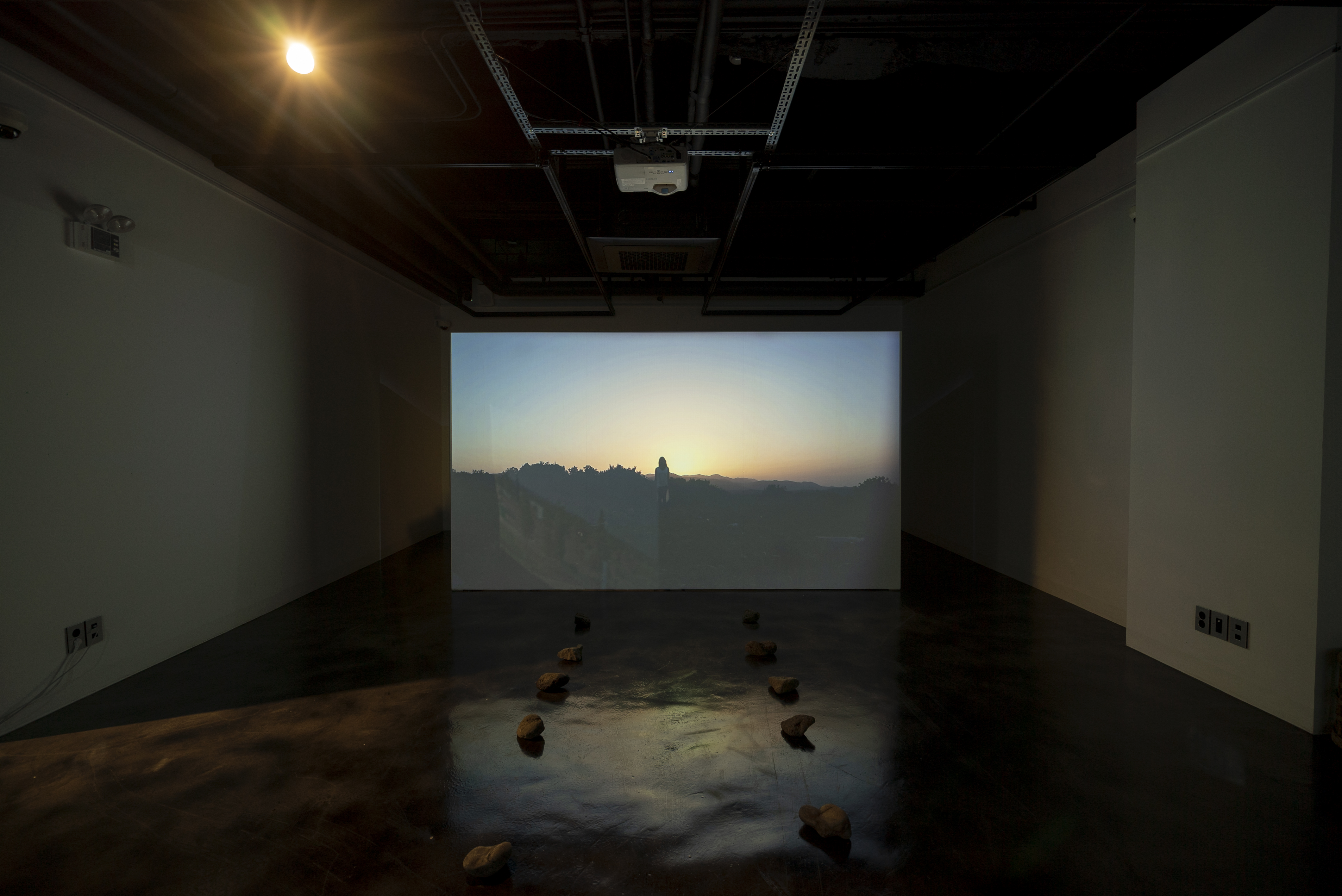 With two screens facing each other along the line of East-West, I attempt to create a time and space for crossing between day and night. By walking into the path, the audiences are invited to exist in the two time and spaces at the same time. The piece was developed during Koumaria Residency in Greece in support of Medea Electronique, and first showcased in Onassis Cultural Center in Athens.
exhibited at Doldam Gallery, Jeju, Korea
Facing the Sun 2.0 /

Solar Time
live video installation
2019
Facing the Sun is a project in collaboration with visual artist
Gonzalo Reyes Araos
, where you see the state of the sunlight of the world in realtime with open-source live webcams found online. It also exists in the form of the website at facingthesun.net as a pixellated map. As a collective from antipode regions - Gonzalo from Chile and Lucia from Korea - both having lived in opposite time zone from home, we are fascinated by the experience of being in day and night at the same time as one chats with his/her mother from home. With this project, we attempt to create a space that enable us to transcend geographic limit of experiencing time, with help of technology as an extension of our senses.
exhibited at Doldam Gallery, Jeju, Korea
Smartstone
Installation
Experience
2018
With 'Smartstone' – an imaginary product made with stone – as an alternative of smartphone, the project attempts to rethink and question human relationship with our technology. Using language of tech company's marketing line twisted with that of mystical products, Smartstone disguises as an ultimate 'next new gadget'. Smartstone is a revolutionary 'device' that resembles smartphone in size and shape but does nothing but being a stone. Its simple functionality to the state of Zen gives you room of imagination and reflection that we are loosing in this information age, yet, its appearance allows you to still live incognito with other smartphone users. First and second batch of Smartstone comes from sedimentary rocks of Buan located in South Korea – home of leading smartphone company. Made truly organically, each Smartstone has unique shape from its nature formation. As an experimental and experiential project, the first trial was initiated by lending stones to a few of my friends and acquaintances in New York and Seoul in 2015 and getting feedback of their experience. During the artist residency at Artspace IAa in Jeju between March~ August 2018, I have developed the project for public, and presented Smartstone in local bookstore and Open Studio for people to have their own Smartstone experience, in exchange of their smartphone. I have been collecting individual's experiences, and based on their experience the project has been evolving.

exhibited at Artspace IAa,
Mirae Boookstore